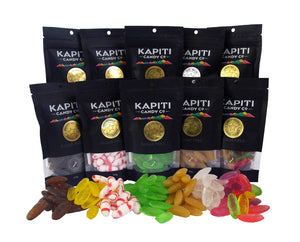 ** FREIGHT INCLUSIVE (EXCLUDES RURAL)
Wait – did I hear JUMBO Sugar Free Pack!?
You sure did...
We've got 10 packs of sugar free candies ready for guilt free eating. 😋
Each pack may contain a combination of the following
 Peppermint Kisses,
 Butterscotch Melts,
 Raspberry Melts,
 Aniseed Melts,
Candy Kisses,
Pear Melts
Lemon Melts
Or Acid Melts
Each bag weighs 100g.
Treat yourself and order some today. 🍬
*Freight inclusive excludes rural delivery. 
Sugar substitutes: Isomalt (953) and sweetener Acesulfame Potassium (950).
Please see individual product listings for further ingredients.
Products come packaged in a cardboard box, and a gifting note (optional)
Product supplied subject to availability.
WARNIN, MAY HAVE A LAXATIVE EFFECT.
MAY CONTAIN GLUTEN, PEANUTS, MILK, SOY, ALMONDS, CASHEWS, BRAZIL NUTS, WALNUTS, HAZELNUTS, PECANS, MACADAMIA NUTS, PISTACHIOS.